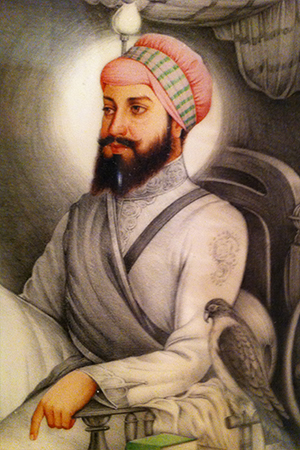 Guru Har Gobind Sahib Ji
Born on: June 14, 1595 A.D.
Born at: Guru ki Vadali in Dist. Amritsar
Jyoti-Jot Samae: March 3, 1644 A.D. at Kiratpur
Successor: Guru HarRai
Wife: Mata Nanaki, Mata Mahadevi, and Mata Damodari
Children: Baba Gurdita, Baba Suraj Mal, Baba Ani Rai, Baba Atal Rai, Guru Tegh Bahadur, and Bibi Biro
Grand Children: Guru Gobind Singh

His Contributions :
- Martialized Sikh movement as a precaution against future contingencies.
- Introduced two swords of Miri (temporal) and Piri (spiritual).
- Constructed the Akal Takht in 1608 A.D. facing Harminder sahib ji at Amritsar in Punjab.

Guru Har Gobind was the sixth Sikh Guru. He was born on June 14, 1595. He was the only child of Guru Arjan Dev and Mata Ganga. Guru Hargobind ji succeeded Guru Arjan Dev ji in 1606, at the age of eleven years, after the martyrdom of Guru Arjan Dev. His wives were Mata Damodri Ji, Mata Nanaki Ji, and Mata Mahan Devi Ji. He had five sons and a daughter.

Guru Har Gobind ji's contribution to Sikhism and Sikhs can be summed up in one phrase i.e. "making them Saints and Soldiers". built Akal Takht Sahib in proximity of Sri Harmandar Sahib with the help of Baba Budha Ji and Bhai Gurdas Ji. He issued Hukams to the Sikhs to learn martial arts for self-defence. Guru Hargobind created the martial art of the Sikhs - called Gatka. He also built the Akal Takhat, or the Throne of the Undying One, next to the Harimandir Sahib. The throne was a statement that the Sikh community was sovereign in its spiritual identity, and was self-governing in its social/political identity. Guru Hargobindcarried two swords; one on his left side and the other on his right. He declared that the two swords signified "Miri" and "Piri", "Temporal Power" and "Spiritual Power", one which would smite the oppressor and the other which would protect the innocent.

Guru Hargobind Ji fought many battles against atrocities of the Mughal Empire. He travelled extensively to preach the high limits of Sikhism. The Mughal emperor Jahangir viewed the buildup of Sikh power as a threat and had Guru Hargobind jailed in the fortress of Gwalior. For 12 years Guru Hargobind remained a prisoner, but Sikh devotion to him only intensified. During this period Baba Buddha and Bhai Gurdas looked after the affairs of the community.

After Jahangir's death (1627) the new Mughal emperor, Shah Jahan, persecuted the Sikh community in earnest. As a result, the Guru had to fight four battles against the imperial forces. Since his purpose had always been defensive, he did not acquire even an inch of territory as a result of these victories. He was looked upon by the Sikhs not only a divine messenger but as an accomplished swordsman.

Guru Har Gobind was also the inventor of the Taus (A Musical instrument made in the shape of a peacock and the word 'taus' is in fact a Persian word meaning peacock. It has 28-30 strings and the instrument is played with a bow).

The Guru founded Kiratpur in the Himalayan foothills and spent the last few years of his life there. Guru Hargobind trained his grandson Har Rai the other son of Baba Gurditta as his natural successor. The Gurus own sons; Gurditta had passed away, Suraj Mal and Ani Rai were too worldly while Tegh Bahadur preferred solitude and meditation. Har Rai was a pious young man. At the age of fourteen Har Rai was ordained by Guru Hargobind as the seventh Sikh Guru. Guru Hargobind Ji passed away in March 1644 AD at Kiratpur.