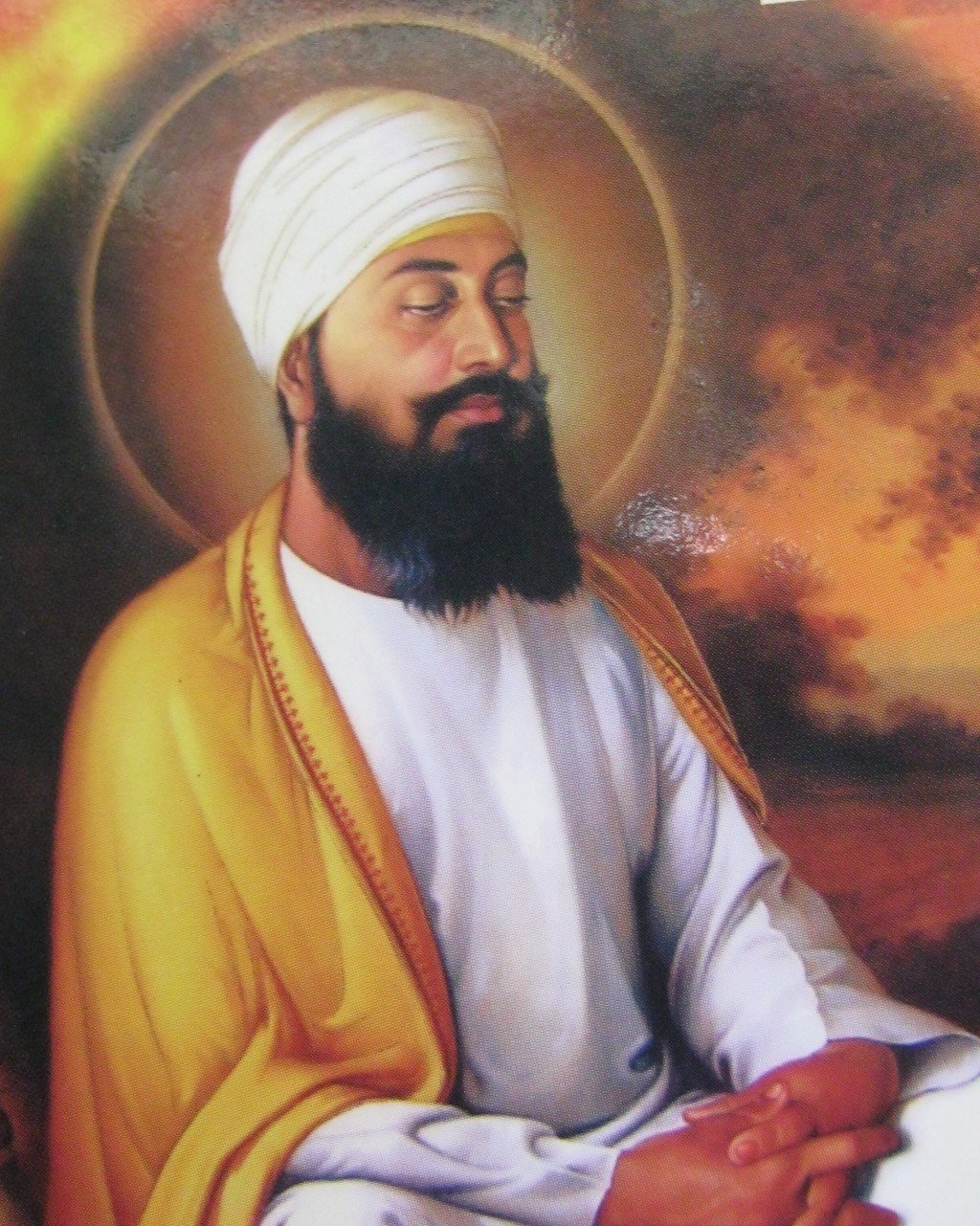 Guru Tegh Bahadur Sahib Ji
Born on: April 1,1621 A.D.
Born at: Guru ki Mahal in Amritsar.
Jyoti-Jot Samae: November 11, 1675 A.D. at Delhi.
Successor: Guru Gobind Singh
Wife: Mata Gujri
Children: Guru Gobind Singh

His Messages :
- Non-attachmentand renuciation is the central theme of his bani.

Guru Tegh Bahadur was the ninth Sikh Guru. He was born on April 1,1621. He was the youngest son of Guru Har Gobind and Bibi Nanki. His original name was Tyag Mal, which meant Master of Renunciation, but keeping in view his courage and bravery, he was named Tegh Bahadur. Guru Tegh Bahadur Sahib Ji received Guruship on March 30th, 1664 when he was living at Baba Bakala. He was married to mata Gujjari and they had one son, the tenth Guru, Guru Gobind Singh.

Guru Teg Bahadur carried forward the light of Guru Nanak\'s sanctity and divinity. He taught liberation from attachment, fear and dependence. Strength should be gained through truth, worship, sacrifice and knowledge. His spiritual revelations are registered in the form of 116 poetic hymns in the eternal Guru of Sikhs, Guru Granth Sahibm all of them Saloks. His Saloks (Mahal 9) near the end of the Guru Granth Sahib are extremely popular.

Guru Teg Bahadur traveled extensively throughout India to preach the teachings of Guru Nanak, the first Sikh guru. The places he visited and stayed in, became sites of Sikh temple. He founded the city of Anandpur which later became a centre of Sikhism.

During the reign of Mughal Emperor Aurangzeb, Islam was imposed on the people. Hindu temples were demolished and turned into mosques, higher taxes were charged to non-Muslims and the Emperor persecuted those who would not conform to Islamic law. Guru Tegh Bahadur spoke out amid this persecution. He was subjected to many cruelties, he was kept in an iron cage and starved for many days. He refused to convert to Islam and in 1675, he was beheaded in Delhi. Today Gurdwara Sis Ganj, Chandani Chowk, Delhi, stands at the site where Guru Tegh Bahadur was beheaded, while Gurdwara Rakab Ganj Sahib, Delhi stands at the site where Guru Tegh Bahadur\'s headless body was cremated. For this sacrifice, Guru Teg Bahdaur is also known as Hind-di-Chaadar (shield of India). The Guru\'s martyrdom served to awaken the collective conscience of the Sikh community.

Guru Gobind Singh Ji was a child of 9 years when he was called upon to shoulder the responsibilities of a Guru.